Filter by Subcategory
Employer Training Eligible For Reimbursement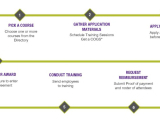 Training Grants For Business: Express Program

Next available session starts Oct 20, 2022 at 12 pm
Change happens. We live in a time of constant flux and uncertainty, affecting virtually everyone and everything. New technologies, new opportunities, and, occasionally, new viruses emerge and compel businesses to adapt to keep up with changing conditions. Now, more than ever, employers need to invest in their workers to equip them with the skills they need to thrive in a transforming world.
The Express Program is designed to help businesses respond quickly to change and keep employees engaged. With bite-size grants for just-in-time training and no waiting periods between grants, Express is the fastest path to funding with 6 quick steps to success.
Fast
Helping you go from application to action (grant award) in 21 days.
Flexible
Dynamic course directory to address emerging needs.
Friendly
Customer-centric, with a dedicated team to support you each step of the way.
Available Funding
While any eligible business may receive an Express Grant, only businesses with under 100 employees are eligible to have the full cost of training covered, up to $3,000 / person / course. For applications recieved on, or after, July 1st, 2021:
For grant recipients with more than 100 MA employees, upon completion of an approved course, you may receive reimbursement of as much as half the total cost of training, up to $3K/person/course.
For grant recipients with 100 or fewer MA employees, upon completion of an approved course, you may receive full reimbursement of the cost of training, up to $3K/person/course.
Bristol has private group contracts and individual training options available for reimbursement:
Nursing Assistant Training/HHA (CNA)
Blended Nursing Assistant Training (CNA)
Supervising The 21st Century Workforce
Coaching and Mentoring A 21st Century Workforce
Human Resources Compliance For 21st Century Supervisors
Excel Bootcamp for Beginners
Excel Bootcamp for Intermediate Users
Excel Bootcamp for Advanced Users
Introduction to Microsoft SharePoint and Teams 
Next Level User SharePoint and Teams
Principles of Lean
 Get Started:
Choose private group contract or individual training options from the trainings listed above
Here is a helpful video to get you started!

If you have additional questions about the application process, Bristol is here to help! Contact Robert Vitello at 774-357-2165 or robert.vitello@bristolcc.edu