Filter by Category
Summer Online Courses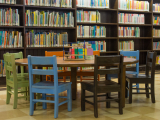 Self-Paced Online Hi-SET/GED Test Prep
with Pat Weekley

Next available session starts Nov 6, 2023
4 additional sessions through Apr 22, 2024
This course will prepare you to successfully take the different portions of GED or HiSET exam.  This is an online, self-paced course that is supported by a instuctor.
You may take any portion of the HiSET or GED exam as soon as you are ready to pass the test and you may enroll in more than one subject area at a time. 
For assistance registering, please contact Kate Ashworth, Education & Career Advisor-Email: Kate.ashworth@bristolcc.edu 
Career Choices and Chats: Tips for exploring and scoring your dream job.
with Glenn Miller

Next available session starts Nov 6, 2023 at 11 am
3 additional sessions through Nov 6, 2023
This hands-on workshop will focus on career research, interviews, goal setting, job scams and more. At the end of the six-week session, you will have a resume and a LinkedIn profile.
Days: Mondays