Filter by Category
Web Design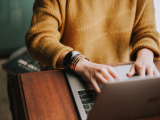 Registration Unavailable
Adobe Certified Associate (3 Vouchers Included)
Price not
available

Current session started Mar 29, 2021
Bristol and ed2go are partnering to present a menu of professional programs to prepare for exams and certifications – some industry recognized!
Self-paced and instructor-led, ed2go is a platform to develop your resume and enhance your career.
The best part is you can register for this class anytime!
Register Here: https://bit.ly/3tXjesp
Class Description:
There is a strong demand for Adobe Creative Suite skills. In the Adobe Certified Associate course, you will learn five of the most often-used Adobe programs: Dreamweaver, Illustrator, Photoshop, InDesign, and Animate (formerly Flash). You will read short readings, complete exercises and watch video demos and reviews of exercises, take quizzes and exams, and complete a project.
By focusing on these five programs, you will learn how to put all the parts and pieces together to develop the Adobe Creative Suite skills needed to be professionals in the design field. This course includes 3 vouchers to allow you to select the certifying exams you prefer. If you would like to take all 5 exams, please see the Adobe Certified Associate (5 Vouchers Included) course. Proctor fees may apply, which are not included.
What you will learn:
Learn about typography and formatting text
Create and optimize images
Configure and create web technologies
Get comfortable with the CC user interface in all five programs
Work with drawing tools
Prepare files for output
Learn about styles and templates
Learn skills to work with team projects
Register Here: https://bit.ly/3tXjesp
Registration Unavailable
Certificate in Web Design
Price not
available

Current session started Mar 29, 2021
Bristol is partnering with MindEdge, founded by Harvard and MIT educators in 1998, to improve the way our region learns – student by student. Online, self-paced or instructor led, MindEdge offers over 30 courses in very diverse sectors. Many courses come with certificates leading to a career or a new skill to develop and expand your portfolio.
The best part is you can register for this class anytime!
Course Description:
A well-designed website is essential for any organization today, with so many people consuming much of their information online. This suite of courses will teach you the skills you'll need to build a website of your own. Building a website involves a lot more than just writing code. Before you start on that, you need to understand what you want your website to do, how it will look, who you want it to reach, and what message it should send. The first five courses in the suite will introduce you to the basics of designing a functional and attractive site, the HTML and CSS languages you'll need to execute your design, and best practices for designing and building a website that responds intelligently to the needs of users. The capstone course will guide you through a scenario-based web design project from conception to completion. Each course features video commentary by web design professionals and interactive learning exercises that will allow you to test your knowledge of web design concepts and practice coding.
Courses Included in this Certificate:
Introduction to Web Design
HTML for Web Design
CSS for Web Design
JavaScript for Web Design
Responsive Web Design
Web Design Captstone: Seaside Bed and Breakfast
CEUs: 1.5 (Contact Hours: 18 hours); SHRMs: 12
Register Here: https://bit.ly/3tQZUwW