Filter by Subcategory
No Cost Training for Businesses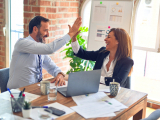 Effective Communication & Team-Oriented Problem Solving
with Monet Viens

Next available session starts Apr 7, 2021 at 9 am

, runs for 5 weeks
This training is funded by the Executive Office of Housing and Economic Development (EOHED) and MASS HIRE SE MA Regional Partnership.
Class Description:  
Bristol's Effective Communication Team-Oriented Problem-Solving class will help participants do just that.  This class will provide tools and techniques to help individuals thrive in a dynamic team environment. Several workstyle, listening and communication assessments will be used to assist participants in gaining a better understanding of themselves and their communication style as well as the style of others. Emphasis will be placed on understanding the importance of listening, non-verbal communication as well as adapting to changing cultural norms to support individual and team growth. 
About the instructor:
For over 10 years, Monet has been helping a wide variety of businesses with their HR and employee development needs.  As an adaptable and innovative HR professional, she has a keen ability to translate visions and strategies into actionable goals, strengthen processes, and increase efficiencies. Through her education, professional development, and industry involvement, Monet has the depth and breadth of knowledge to handle a variety of needs.  By keeping her finger on the pulse of national, state, and local issues, Monet is current with the latest developments in HR and can offer a unique and strategic perspective on various business needs. 
Lean Six Sigma/Business Process Improvement Yellow Belt
with Joe Barckett

Next available session starts Apr 13, 2021 at 8:30 am
This training is funded by the Executive Office of Housing and Economic Development (EOHED) and MASS HIRE SE MA Regional Partnership.
Class description:
Bristol's Lean Six Sigma/Business Process Improvement Yellow Belt training focuses on preparing individuals to develop efficient processes for faster delivery, increased productivity, and more consistent quality. This training will allow participants to be well versed in the foundational elements of the Lean Six Sigma Methodology. As a result, they will be able to support limited improvement projects and serve as a team member on a more complex improvement project. A Lean Six Sigma Yellow Belt possesses a thorough understanding of the elementary aspects of the DMAIC process – Define, Measure, Analyze, Improve, and Control. 
This course will also include a thorough review of Lean/Business Process Improvement tools such as Value Stream Mapping, 5S and Visual Systems. 
About the instructor:
Bristol's Instructor Joe Barckett is a Lean/Sigma Master Black Belt who has led business process improvement training projects at many local and global companies. 
Professional Supervisor

Next available session starts Apr 20, 2021 at 8:30 am
To participate in this training, please register your business with the Workforce Training Fund Small Business Direct Access Program.

Course Description
People at all levels of management face a number of challenges and responsibilities, especially under rapid workplace change. There is no more demanding role than that of a supervisor and this role continues to evolve.  It is so much more than assigning or directing work. A supervisor's success hinges on how effectively they can communicate and manage their team's performance.  High performing teams don't just happen - they are made up of individuals who bring a broad spectrum of skills, talents and experiences to the workplace and are often developed one member at a time.  To keep a team fully engaged, a supervisor must be able to manage of change and communicate effectively.  Changes that are negatively perceived by team members can disrupt morale and the flow of work.  
This course highlights how changes in the workplace and in society, have necessitated changes in how a professional supervisor leads and directs people to achieve greater business results and professional development.  
Topics covered in this 20-hour training include:
Topic 1:  The Changing Role of the Supervisor
Making the transition from employee peer to supervisor
Trust and credibility
Fear vs. respect: how should you manage?
Mini-DiSC: what's your style of supervising?
Topic 2: Increasing Supervisory Effectiveness
Effective communication
Communication style & asking good questions
Listening skills & non-verbal communication
Task & time management
Delegating & managing change
Topic 3: Supervising a Diverse Workforce
Managing diversity & inclusion
Promoting inter-cultural communication
Supervising a multi-generational workforce
Topic 4:  Performance Management
Introduction to coaching & feedback
Using G.R.O.W. - A Coaching Discussion Model
Introduction to Discipline in the Workplace
What am I going to get from this course?  You will be able to:
Describe changes in the business climate that have influenced a change in how supervisors manage their direct reports.
Explain the impact that a supervisor's trust and credibility has on team performance.
Articulate and demonstrate the habits of credible leadership.
Demonstrate how to effectively use your knowledge and understanding of DiSC profiles to build and develop more collaborative, cohesive and productive work relationships within your team and with individual team members. 
 What will participants need to know or do before starting this course?
Participants should be aware of workplace policies and challenges in their organization and ready to share since participation is encouraged. Everyone has leadership qualities. This course is recommended for new supervisors and supervisors in the role looking to update their skills. All experiences are welcome.