Filter by Category
Language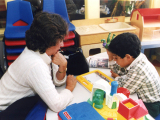 Registration Unavailable
220-Hour Advanced TEFL Certification
Price not
available

Current session started Mar 29, 2021
Bristol and ed2go are partnering to present a menu of professional programs to prepare for exams and certifications – some industry recognized!
Self-paced and instructor-led, ed2go is a platform to develop your resume and enhance your career.
Register Here: https://bit.ly/3ub2nTl
Class Description:
Worldwide, millions of learners work with TEFL (Teaching English as a Foreign Language) instructors to learn and better understand the English language. Earn your internationally recognized TEFL certificate in this online course, so you can teach English online, abroad or wherever the need arises. You will also learn how to teach English to different audiences, including Business English Users and Young Learners. Once you have completed this course, you will be eligible to apply for TEFL teaching posts.
What you will learn:
How to prepare and deliver a dynamic and interesting lesson plan.
Classroom management strategies.
Language skills and how to teach them.
How to find and design teaching resources.
Specialize in niche areas of English language teaching like Business English.
How you will benefit:
Earn a certificate which allows you to teach English all over the world
Gives classroom confidence
Find better paid teaching work
Opportunity to work/travel
Specializes you in Teaching English Online, teaching Young Learners and Business English
Prerequisites:
While there are no prerequisites to take this course, a bachelor's degree or higher is typically required for most TEFL positions. However, you can teach English TEFL with only the certification in some cases.
Register Here: https://bit.ly/3ub2nTl