Filter by Category
Home Inspection Certificate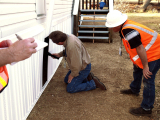 Registration Unavailable
Home Inspection Certificate
Price not
available

Current session started Mar 29, 2021
Bristol and ed2go are partnering to present a menu of professional programs to prepare for exams and certifications – some industry recognized!
Self-paced and instructor-led, ed2go is a platform to develop your resume and enhance your career.
Course Description:
The Home Inspection Certificate Course covers the principal components, procedures, and processes of home inspection. This course has also been approved by the American Society of Home Inspectors (ASHI) and various home inspector organizations and regulatory boards for membership renewal credits or continuing education credits. It is also one component of the steps required to obtain a NIBI Certified Inspector credential.
Through 11 in-depth modules, you will gain insight on the methodologies required to perform a home inspection. You will learn how to inspect and report on heating and cooling systems, plumbing and electrical systems, roof and siding, the foundation, and other major components of a home.
What you will learn:
The purpose, scope, procedures, and standards of practice of a home inspection
The methodologies involved in creating a home inspection report
Residential construction materials and methods
Basic residential construction materials and techniques
Types of home inspection and personal protective equipment used by home inspectors
To recognize common defects found in residential construction
Appropriate reporting methodologies for creating a home inspection report
How you will benefit:
Build the knowledge base needed to complete home inspection exams
Earn membership renewal credits or other continuing education credits
Take the next step in the NIBI Certified Inspector credential process
Receive a home inspection course certificate
Prerequisites:
There are no specific prerequisites for this course, but having some working knowledge of residential construction and appraisals is beneficial. Further, while you can take this course in any state, please note that some jurisdictions have home inspector licensing or registration laws that require a classroom, field inspection, and/or association membership component. Be sure to check your state's requirements prior to enrolling.