Filter by Subcategory
Construction and Trades
Online Registration Unavailable
Project Management (ACE CREDIT®)
Price not
available

Current session started Mar 29, 2021
Bristol is partnering with MindEdge, founded by Harvard and MIT educators in 1998, to improve the way our region learns – student by student. Online, self-paced or instructor led, MindEdge offers over 30 courses in very diverse sectors. Many courses come with certificates leading to a career or a new skill to develop and expand your portfolio.
The best part is you can register for this class anytime!
Course Description:
This online course introduces learners to the basics of project management. Throughout six segments, learners will practice the foundational skills of project management, consider the ethics involved in leading a team, and explore similarities and contrasts between Agile and Waterfall project management methodologies. The self-paced course offers an assortment of interactive exercises, videos, selected readings, case studies, and self-assessments that engage students and provide opportunities to practice project management skills.
Topics covered in the course:
Managing Real World Projects
Project Management Team Leadership
Ethics for Project Managers
Emotional Intelligence for Project Managers
Effectively Managing Project Stakeholders
Integrating Agile into a Waterfall Environment
This course has been evaluated by The American Council on Education's College Credit Recommendation Service (ACE CREDIT®) with a recommendation of 3 credits, lower division, in project management or fundamentals of project management.
A student's grade in the course will be based on their performance on a final, cumulative exam. The final exam is composed of 50 multiple-choice questions. Students will have 2 hours to complete the exam. The exam is proctored. For more information, please see the syllabus.
If students do not earn a passing score of 70% on their first attempt, they will have the opportunity to take the exam 1 additional time (2 total attempts). Students must wait 24 hours between exam retakes. A passing score of 70% of above is required to request college credit for this certificate.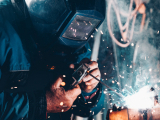 Registration Unavailable
Welder Technician
Price not
available

Current session started Mar 29, 2021
Bristol and ed2go are partnering to present a menu of professional programs to prepare for exams and certifications – some industry recognized!
Self-paced and instructor-led, ed2go is a platform to develop your resume and enhance your career.
Register anytime: https://bit.ly/3nQ0lpI

Course Description:
Do you like to work with your hands? Are you looking for a career where you can do what you love and make good money? This online Welder Technician course is an accelerated training package that will provide you the required knowledge and skills you need for success as a welder.
The course provides an intensive overview of the skills necessary for a welder technician to perform the job, including lessons in math, inspection, safety, materials, quality, metal cutting, grinding, forming, robotics, rigging, and welding.
What you will learn:
Welding Safety, Processes, and Applications
Troubleshooting
Inspection Methods
Metallurgy
Rigging
Fabrication Processes
How you will benefit:
Prepare for a career as a welder technician
Gain confidence in your ability to perform your job
Get the knowledge and skills you need to start your career in an accelerated format
Prerequisites:
There are no prerequisites to take this course.
Register Here: https://bit.ly/3nQ0lpI
Offshore Wind Orientation
with Alan Lowdon

Next available session starts Oct 5, 2021 at 8 am
2 additional sessions through Dec 1, 2021
The U.S. Department of Energy forecasts the industry will employ 43,000 people along the East Coast by 2030, and as a result, will create thousands of jobs in southeastern Massachusetts, providing area residents career opportunities in the emerging 21st-century global economy. The U.S. offshore wind industry is emerging in the North Atlantic near the Massachusetts coastline and Bristol Community College is leading the way in workforce development.  
Course Description:
Offshore Wind Orientation will provide a broad introduction to offshore wind as an industry and technical specialization. This 2-day, 4-hour class (8am-10am) is aimed at those looking to understand more about the sector, with the intention of becoming part of the supply chain, or for satisfying general interest in this emerging industry. Equally, the course aims to provide students with a broad vocabulary of offshore wind and the confidence to engage with offshore wind professionals in a coherent manner. Content will include an overview of offshore wind technology and its increasingly important role in power generation; the process of permitting, site construction and operation; the opportunities for the USA's emergent offshore wind sector to make its mark globally, and an introduction to those currently leading the development of this burgeoning, global industry.
Please note: Offshore Wind Orientation is a prerequisite to all other Offshore Wind classes. 
Learning Objectives:
On successful completion of this module, students will have a good understanding of:
The energy mix and offshore wind's role in it
Where offshore wind developments can be found around the world
Onshore versus offshore wind – the key differences
Who is big in offshore wind - 'developers' and original equipment manufacturers (OEMs)
The stages required to bring an offshore wind farm to life
The stages of an offshore wind farm's life
The main components of an offshore wind farm
The importance of effective operations and maintenance
Latest perspectives on floating versus fixed structures
The composition of the offshore wind supply chain, including possible entry points
The key US stakeholders in offshore wind
How the US offshore wind sector might develop over the next 10 years
The skills required to grow an indigenous US offshore wind industry
Offshore wind terminology, via a glossary of terms
About the Instructor:
Dr Alan Lowdon, Director of Strategic Development for the National Offshore Wind Institute (NOWI) over 30 years' experience as a practitioner within the international energy and utilities sectors, having held senior positions with international corporations, Rolls Royce Industrial Power, British Gas, Suez, Shell, Mott MacDonald and Jacobs. At Mott MacDonald, Alan was involved in wind resource analyses for the Cape Wind and Fishermen's Energy offshore wind projects. He has also acted as an advisor to Lake Erie Energy Development Corporation's offshore wind farm in Cleveland, OH.  
Read full bio: Dr Alan Lowdon Bio 2021

Link to Bristol National Offshore Wind Institute website: http://nowi.org/